In your 30 Day Recall Course I will take you through every step of training and perfecting a recall through a series of daily tasks and tips. I'll help you monitor your progress, show you what to avoid, and how to handle distractions as we go. By the end of the 30 days your recall will be much improved and you'll have the tools you need to keep working on it and making the changes permanent.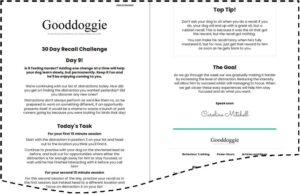 The lessons will appear daily in your course page, or you can opt to have them sent to your inbox daily.
Don't worry if you can't keep up! All the daily tasks will be saved in your profile and you can catch up when you are ready, or split each day into two and take 60 days to finish!
Your 30 minutes is best divided into two 15 minute training sessions, which can be done during your daily walks if you are short of time. You'll also need a 5m and 2m lead or long line (not an extendable lead), or you can use a 5m long lead folded in half.
This programme is perfect for dogs and puppies, that either haven't learned the recall yet, have a partial recall, are easily distracted, stubborn, or learned it once and have stopped coming back to you.
It is not ideally suited for dogs that have behavioural issues or can be reactive in certain situations. You'll still see an improvement in most situations, but until the other issues are resolved you may still struggle in those specific conditions. Not all breeds are recommended to be let off lead; stick to secure areas, or trusted environments, if you think this might be the case for your dog and test them thoroughly before letting them off lead – I'll guide you through this in the course.
FAQs
What if I can't keep up?
All the recall tips and tasks will be made available in your course dashboard. There is no deadline so you do the training at your own pace or start at a later date.
What can I expect by the end of the recall training course?
By the end of the course, you'll have two different ways to call your dog AND you'll know how to handle distractions, solve common problems, and you'll have all the tools you need to make your dogs recall as good as it can possibly be!
Do I have to let my dog off lead at the end?
No definitely not, I'll show you how to monitor your progress so you will know when your dog is ready, but you don't have to do anything you're not comfortable with.
I'm not in Dundee can I still take part?
Of course, it's all done online so you can take part anywhere in the UK!
I need more 1-1 help!
No problem, check out my Power Hours instead. We can spend an hour in Baxter Park (or remotely via zoom) working privately on your dogs recall, or something else!